Eating in Tenerife at Christmas: Homemade desserts that you cannot miss
Nougat, polvorones, mantecados, pudding … eating in Tenerife could be something different!
Despite eating in Tenerife is a pleasure, it is sais that the best thing about spending Christmas in the Canary Islands is the sun.
And of course, a dip with a lot of rock at Hard Rock Hotel Tenerife or an incredible sunset at The Sixteenth.
In addition, discovering its gastronomy will make you feel a world of Christmas flavours. So maybe do you want to know what you should eat in Tenerife at Christmas.
If you want to try any of these homemade desserts, you can find them in artisan bakeries or in the Guachinches where eating in Tenerife becomes a pleasure that will make you feel at home.
Eating in Tenerife: What delicacies are we talking about?
Ho Ho Ho Enjoy!!
Truchas navideñas
Full of energy and good humour, it is the typical sweet that the Canary grandmothers prepared for their family.
And although it may remind you of other desserts that you have already tried, its flavour is indisputable.
Its star ingredient: sweet potato that, along with almonds, cinnamon and puff pastry.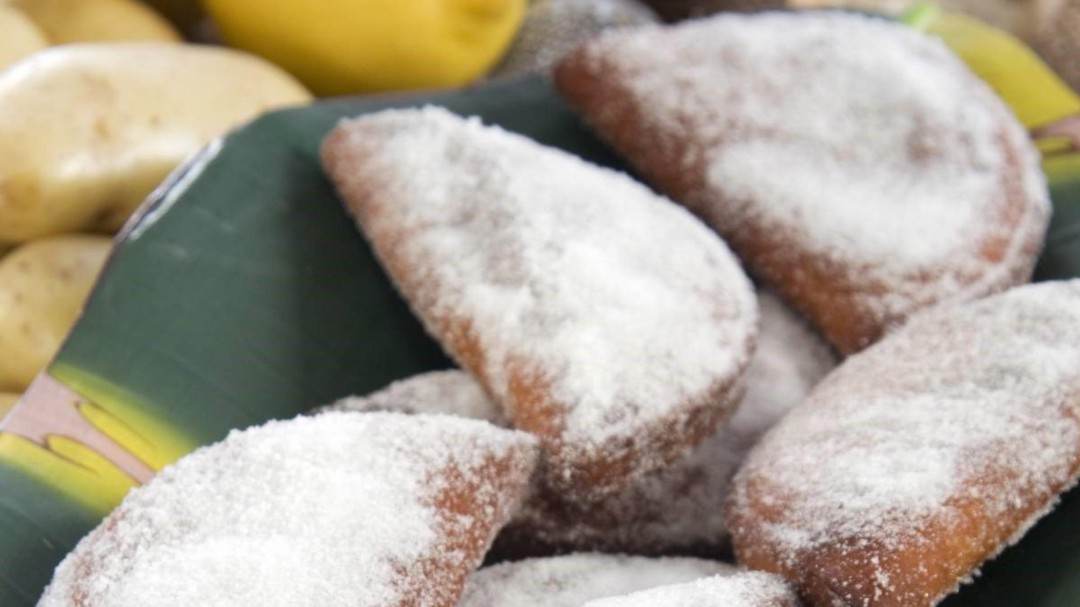 All together will delight your taste buds that will be wondering what will be the next delicacy you can eat in Tenerife.
Polvito Uruguayo
Originating in Uruguay, this dessert was adapted to Canarian cuisine.
For example, They use typical products such as Suspiros de Moya and dulce de leche.
Dulce de leche is not typical of the Canary Islands, but it is loved as a filling for the most typical desserts.
Tarta de la Abuela
A dessert that is part of the childhood of the islanders.
It combines some of the favourite sweets from our childhood. Cake, flan and chocolate.
Eating a cake at any typical bakery in the oldest villages will make the Christmas spirit emerge.
Pella de gofio
If we were to talk to you about one Canarian dessert, the gofio Pella would be the jewel in the crown.
With the sweet taste of honey, almonds and its unique texture will leave you surprised and wanting to know a little more about this super ingredient that we told you here.
Of all the pleasures you will live on your Christmas, eating in Tenerife will be one of your favourites.
What dessert would you like to try first?